LG TRUCKING, INC is contract carrier based in Denver, Colorado. Our trucking company takes pride in employing safe and trustworthy Class A drivers. The services we provide include drop and hook delivery between terminals. We meet scheduled arrival times at all destinations, including turn points, satellite terminals, and hubs. Assist in the efficient and timely movement of trailers between shippers, consignees, satellite terminals, and hubs, by performing such in route pick-ups, deliveries, trailer spots, and shuttles as necessary.
LG TRUCKING, INC foster the professional image and good reputation of our shippers and consignees, including adhering to state, and local laws, regulations, and ordinances. Our drivers cause the equipment to be operated safely and in compliance with all applicable laws and regulations, and conduct all business activities with integrity and honesty, in a professional manner, with proper decorum at all times.
LG TRUCKING, INC operates a brand new 2015 & 2016 Volvo Trucks with I-Shift transmissions and all the goodies like Satellite Radios, Inverters, TV's and Microwave set ups and brand new 2015 & 2016 Reefer trailers with TK PRECEDENT engines.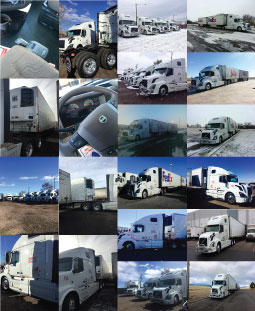 Click on each thumbnail to see larger image.